Those we loved who have been part of our journey…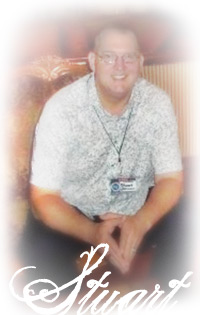 Stuart W Johnson
To Family, Friends and members
Stuart was met at heavens gate on August 28, 2012 when he won his battle with cancer. Stuart is known by many in the paranormal field for his spiritual guidance, wisdom, humor, and love for life. Stuart has been an important part of the PIA since 2009 and will always be part of PIA in the years to come.  He is a mentor, a best friend, a brother, and uncle to many of us.  He has touched the lives of many and will continue to do so on the other side.
We speak about him in the present tense because he would always say " Their life has just begun" speaking about those who had passed on. Stuart does not want us to think of him as being gone because in truth he is always with us. He is at every investigation, every meet up, every barbeque, and every party. So when you see a 6'7" figure in your next photo…that may be him just stopping by to say hello.
Miss you Stuart…..
Scott Blight
To Family, Friends and members
Life…..so fragile, Loss….so sudden, Heart….so broken,…in the wake of such a loss, we are haunted by things we don't, and may never understand. Yet the solace we seek may not come from answers. So we look for comfort in the belief of love's everlasting connection. May that love lift you and hold you close, and give you peace in remembrance of Scott.
PIA will miss you…..
Bob Kelly
To Family, Friends and members
Bob Kelly (Florida Paranormal Research) was met at heaven's  gate February 23, 2013 after winning his battle with cancer. Many of us in the paranormal field know him as Big T which was short for Big Teddy Bear. This was because anytime you saw him, he was there with open arms waiting for a hug no matter what. During his time here, he made many friends and was a huge part of the "Paranormal Kicks Cancer" event that is put on every year. He will be missed by us all, but we know he will be with us every year during PIA and PKC.
"Big T" you will be missed
PIA The Gathering